An Open Letter to Apple on Innovation and the Evolution of the MacBook Product Line
Two weeks ago my wife and I went to the Apple Store to purchase her next laptop. Her 11" MacBook Air was frequently getting the spinning beach ball (Mac users know what I'm talking about) and was showing other signs of wear and tear. I knew the purchase would not be easy since Apple no longer makes the 11" Air and she used the 11" Air product line faithfully for the past 5 years. The functionality, the form factor, and the utility of the 11" Air all fit perfectly into her lifestyle. I showed her the 12" MacBook ("It's smaller but still has a bigger screen" I advertised) and the 13" MacBook Air. To my surprise she opted for the 13" MacBook Pro because it was not much heavier than the 13" Air and it had more firepower.
Today, we returned the purchased 13" MacBook Pro.
The extra weight over the 11" Air was noticeable to her but what bugged her more was not the extra weight, but the subtraction of features. She went from a smaller, lighter machine with
1 Thunderbolt (MiniDisplay) port
1 MagSafe-2 power connector port
2 USB-A ports
1 headphone jack
to a machine with
2 USB-C ports
1 headphone jack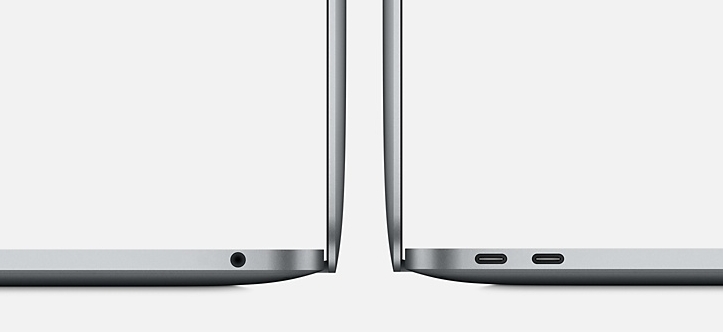 I know the 13" Air still has these ports, but you pay a lot in technical debt. The Intel processor is 2-generations old. The display is not even 1080p HD. The bezels are excessive by modern standards. And the tech specs are not much better than her current 11" Air… the one with the spinning beach ball.
So what do we see as our requirements? Here are a few important notes about my wife, her career and her style.
1. Dongle today, gone tomorrow. She is a public speaker who gives dozens of keynotes and other presentations per year. Being a public speaker means her computer must be ready to be connected to a variety of A/V systems. She already carries dongles for Thunderbolt-to-VGA, Thunderbolt-to-HDMI, etc. And as her primary tech support rep I will tell you video conversion is the second best thing those dongles are good for. The first best thing is getting lost. Seriously. When you pack your gear after a major keynote while trying to catch a cab to the airport for a plane that leaves in 90 minutes, time is of the essence. Double checking for small white connectors in your bag is often a luxury of time you don't have. More dongles to carry = more dongles to lose.
2. One from column USB-A, one from column USB-C. With the baffling one-shot elimination of USB-A ports all the existing USB-A-to-xxx dongles she owns must either be repurchased in USB-C-to-xxx format or even worse, multiple USB-C-to-USB-A dongles must be purchased in order to chain from the MacBook Pro to her USB-A-based existing dongles. The nickel-and-dime repurchase of connectors is annoying but the ever-growing list of dongles to carry and keep track of becomes untenable, especially for a person whose career focuses not on technology variations but on the content she creates and delivers. For any seasoned traveler, less is more and the new MacBook line requires one to carry a lot more extras than ever before.
3. One More Thing. As a public speaker, her presentation content must be available at all times. Relying on a single device or even "always on" Internet connectivity is not sufficient. She keeps backup copies of her content on USB sticks that can be read by any modern computer. Well, "any" up to recently that is. This is more than just another "dongle, dongle, dongle" thing. You see its not uncommon for her to be giving a presentation where she is simultaneously using her power cord, her Thunderbolt port for Thunderbolt-to-VGA video out, one USB-A port for the dongle for her presentation clicker, a second USB-A port connecting a USB stick with supplemental presentation materials and the headphone jack for sound-out. Everything was in full use. What would this be like with the new MacBook Pro? Let's just say the volume of dongles, splitters and other paraphernalia she would need to achieve this is a bit much to ask of someone whose job is not technology. Its probably a bit much for someone whose job is technology also.
4. Oops, I did it again. My wife is very hard on her technology. A drop here, a bang there, a shove into her bag and run to the next presentation. She puts her computer through numerous trials every day. (I once remotely diagnosed and audio problem to be a small piece of popcorn stuck in her audio-out jack. But I digress.) The number of times I've seen the MagSafe adapter save my computer (and I am very careful with my gear) is probably in the hundreds. The number of times it has saved her computers? Let's just say I'm not sure a 32-bit unsigned integer would be sufficient for that variable. Why Apple would take such a step backwards as to remove a unique and highly valued safety feature is beyond me. I've never heard anyone say "I hate this MagSafe thing and wish they would give me a hard-connected power cord!" Yet that's just what they did. Why? Why, Apple, why?
5. What's good for the iPhone-using-goose is good for the MacBook Pro-using-gander. This morning as we debated whether or not she would end her relationship with Apple and she was relaying her dongle-based concerns she stated "It's exactly what I hate about the current iPhones! I make hours-long calls and I can't charge the phone and use my headphones at the same time!" She and I both use Bose QC20 wired headphones. We have both tried numerous other headphone models but we love our Bose QC20s. And now we need another dongle to be able to charge our iPhones and use the headsets at the same time. And has anyone ever used the term "gander" when referring to a male goose except in the goose/gander idiom?
I keep hearing Phil Schiller from Apple's 2013 WWDC keynote in my ear "Can't innovate anymore, my ass." But what's the purpose of that innovation? His statement was in reference to a tubular Mac Pro. A gorgeous product. Beautiful design. Completely missed the mark on what a Pro user wanted. Does innovation mean design over function? Is thinner always better? Thinner, sleeker and lighter were keys to many Apple technology shifts. But there comes a time when we stop following their lead because it is costly and more than just a little frustrating. These major shifts in technology aren't happening one time every five years where it would be more palatable. There seems to be a major shift with every new generation of product. Goodbye Firewire. Goodbye 30-pin connector. Goodbye headphone jack. And with the latest triple dog dare: Goodbye MagSafe. Goodbye USB-A. Goodbye Thunderbolt.
To quote Susan Powder: "Stop the insanity!" These drastic, all-at-once technology shifts are making people worry and think more about their computers, not less. This is the opposite of what a business person wants/needs. Which part of this "innovation" makes a person's life better? I have no problem with moving to a new direction. But to do it all at once as an all-or-nothing, without so much as a reasonable means of shifting speaks to me as arrogance with no true sense of company "self." In short: profits over customer.
In my opinion, the Apple of 2017 is no longer centered on creating products that transform people's lives for the better. Instead it is a company rooted in making design-first, status symbol-oriented products and reaping high profits. And, I want to be very clear here, there is nothing wrong with that. It is a fair and valid business model and one that continues to reap rewards for Apple investors and employees. Bravo to Tim Cook and the whole management team for that. Truly. No sarcasm or disrespect meant. But I question if Apple still provides the products that work for the lifestyle of my wife and me. Is Apple 2017 is still the company for us? I ask that with much sadness as our investment in the Apple ecosystem is large and switching is a major decision.
So, Apple, today we returned a MacBook Pro. Not because there was any particular problem with the device but because, for the first time in decades, Apple no longer makes a product that meets our needs.